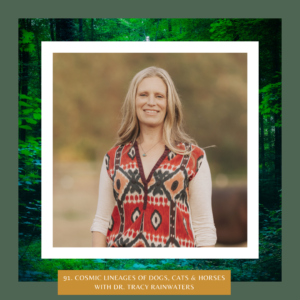 In Season Four of The Earth Keepers Podcast, I'm welcoming a series of thought-provoking guests like Dr. Tracy Rainwaters, a human and animal chiropractor and animal communicator,  to the show to discuss where exactly humanity is headed and how we can collectively create the future we'd like to see and how animals are assisting in creating new realities on the earth and creating where it is.
Tracy Rainwaters combines her medical knowledge as a human and animal chiropractor with intuitive abilities as an interspecies intuitive, channel & shamanic practitioner to bring whole-being healing to both horse and rider.
Tracy's passion and greatest gifts are to be a voice for the animal kingdom. When we can approach the health and healing of ourselves and our animals from a perspective that goes beyond the physical into the spiritual and energetic, magic really can come forward.
Please enjoy my conversation with Dr. Tracy Rainwaters.
Subscribe: Apple Podcasts | Pandora | Spotify | Amazon Music | Google Podcasts | Android Devices | Stitcher | RSS | Audible
Here's what you'll hear in this episode:
Horses as the ultimate shamans
How horses connect to the higher realms
How Tracy began doing cosmic origins readings with animals
Domesticated animals as master healers
How animals never see themselves as victims
Dreaming our reality into being
The duality of animals and humans
How gold was used for mental time travel in Egypt
The power of animals and how they support humans
The connection to mother earth and the portals
Earth is the template for all galactic beings
The primal drumbeat of the animals
Links & Resources
Listen to all episodes in Season 4
Join the Earth Tenders Academy
Join the Earth Keepers Community on Facebook