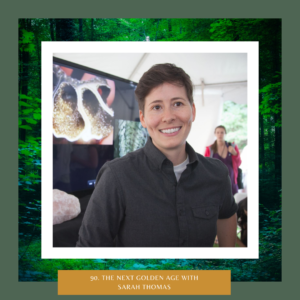 In Season Four of The Earth Keepers Podcast, I'm welcoming a series of thought-provoking guests like Sarah Thomas, founder of the Upper Clarity School of Stone Medicine,  to the show to discuss where exactly humanity is headed and how we can collectively create the future we'd like to see.
Sarah believes that the stones of the Earth can show us the way to the next Golden Age.
In these years of purification that we are currently experiencing, the stones are helping us to access the deepest, darkest parts of ourselves that need to be brought to the light.
According to Diana Cooper's book Discover Atlantis, Atlanteans used crystals for almost everything. They were the source of their power and technology.
Crystals enhanced healing sessions, assisted in awakening psychic abilities, and helped to increase mental capacity and focus their thoughts with clarity.
Enormous crystal towers in Atlantis powered the communication networks and energy grids and even controlled the weather. 
And deep down, many of us remember that and are naturally drawn to working with these stones and crystals in our lives today.
Sarah is no doubt one of these people.
Sarah has founded the Upper Clarity School of Medicine to share the great legacy of stone medicine originally materialized by the Wu of ancient China.
Sarah is a healer, acupuncturist and educator and is immersed in the clinical and academic experience of ancient stone medicine and future crystal technologies – standing squarely at the intersection of blending the past and future to help usher in a new Golden Age on Earth.
Subscribe: Apple Podcasts | Pandora | Spotify | Amazon Music | Google Podcasts | Android Devices | Stitcher | RSS | Audible
Here's what you'll hear in this episode:
What is stone medicine and what does it do?
Finding resonance between ourselves and the stone human bond.
The most critical decade of human history.
The Great Purification.
Creatorship is a state of consciousness.
The bridge between the material and immaterial worlds.
Consent and free will in technology.
The power of the mystical practice.
The power of mass media to synchronize thoughts.
Links & Resources
Listen to all episodes in Season 4
Join the Earth Tenders Academy
Join the Earth Keepers Community on Facebook