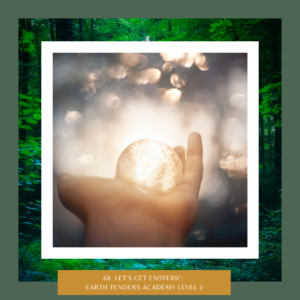 In this episode, I share an in-depth discussion about what's inside the Earth Tenders Academy Level 2.
While Level 1 is building a foundation for doing energy work with the Spirits of the Land, Level 2 is where things get a bit more esoteric.
Each lesson in the Earth Tenders Academy focuses on different types of experiences you might come across while working with the land.
These are all things I have repeatedly experienced while doing property readings or working with the land so it will give you a good understanding of how things work and what you might see in the middle world with the Spirits of the Land.
You'll connect with your ancient ancestors, learn about portals and stargates, experience working with time and timelines, the Earth's grid system and artificial intelligence.
If you're a shamanic practitioner, permaculture designer, witch, druid, herbalist, gardener, energy healer, or lightworker, you're going to love this season of The Earth Keepers Podcast.
Here's what you'll find in this episode:
Why this is a great time to join the Earth Tenders Academy
The importance of knowing the settlement stories of the area you live in
Who you might meet when connecting with your ancient ancestors
The different ways you might experience different timelines on the land
What people experience when they help earthbound spirits cross over
Creating sacred temples on the land
Offering property readings to others as a business
The importance of guided journeys in the Earth Tenders Academy
What happens on our monthly live calls
Links & Resources
Get $111 off the regular price of the Earth Tenders Academy through May 31, 2022 with the code MAY22
Listen to all episodes from this season
Join the FREE Following Hawks Earth Keepers Community on Facebook