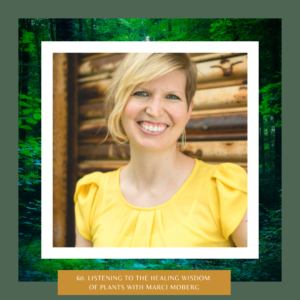 In this episode, I speak with intuitive soul guide, shadow worker, and plant spirit teacher Marci Moberg. Marci shares how she began hearing the wisdom of plants in her childhood.
We talk about what a plant spirit is and how it's different from us, how she experiences communication from plants and how healing trauma and a Lyme diagnosis led her back to working with the wisdom of plants.
She shares about how plants show up in dreams, meditation, and our physical environment and wait for us to say yes to working with them.
We also get into a discussion about how Marci started working with poisonous plants and the deep healing wisdom these plants hold for us.
If you're a shamanic practitioner, witch, druid, herbalist, gardener, energy healer or lightworker, you're going to love this season of The Earth Keepers Podcast.
Watch the replay of The Earth Keepers Podcast Season 2 Kickoff Party on YouTube Live.
Here's what you'll hear in this episode:
Marci's earliest memories with plants
How she intuitively found edible plants in the woods as a child
Relearning those childhood skills intentionally as an adult
That being told that Santa Claus, the Easter Bunny and leprechauns weren't real was a trauma that separated her from the magical spirit world
What a plant spirit is and how they differ from us
How Marci experiences plant communication in her life now
How trauma healing and a Lyme diagnosis led her back to the earth
That the plants first started communicating with her through synchronicities
The different ways plants show up to her in dreams and in the physical
Deciphering cryptic messages from plants in dreams
Gateway plants like yarrow that gently invite us into working with the plant realm
The need to consciously say yes to working with a plant spirit
The importance of reciprocal relationships with plants to step into a deep partnership
Plants as catalysts for emotional and spiritual healing
The surgical precision of plants to work with us in the exact way we need
What plants know about life on earth after eons of working and living with humans
How to work with plants that don't grow in the area you live in
The ways that Marci began working with poisonous plants and how they helped her with boundaries
Different ways to work with poisonous plants
How flower essences of certain entheogenic plants affect her as strongly as ingesting the plant
Poisonous plants' affinity for shadow work, the underworld, and death/rebirth

How certain plants have gotten attached to dark beings and what Marci's experience has been with them

The readiness of the plant spirits to work with us in partnership

Magic that can be found in a relationship with a plant, outside of what it can offer through its physical compounds
Links and Resources
The Earth Keepers Podcast | Season Two Episodes
Join Marci's plant and fungi spirit Patreon
Join the Earth Tenders Academy
Join the Earth Keepers Community on Facebook