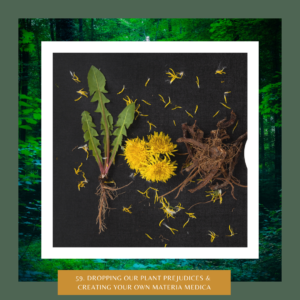 In this episode, we'll be talking about how to begin releasing plant prejudices and how to start getting to know new plant allies to begin creating your own materia medica.
Of course, it's easy to fall in love with the obvious plants that share their medicine through their beauty or scent or well known healing qualities. But to truly begin to heal our collective relationship with plants, I think we have to look at how we've put them into categories of being either good plants that we want to cultivate and share and bad plants that we want to poison and kill.
We talk about how the pesticide companies have positioned weeds and invasive plants as the enemies in our modern culture and how many of these plants play critical roles in the ecosystem and also have important medicine to share with humanity.
We have much to learn from plants, even the ones labeled toxic or invasive.
I share some specific suggestions on how to pick a plant ally to begin learning from and how to start working with it and creating a materia medica to record the guidance, wisdom and medicine you receive from the plants in your immediate environment.
And finally, I share some thoughts from the book Nature's Best Hope on how working with native plants in our own backyard can have a huge impact on the birds, insects, animals and other people in your community.
If you're a shamanic practitioner, herbalist, gardener, energy healer, lightworker, psychonaut, or houseplant enthusiast, you're going to love this season of The Earth Keepers Podcast.
Watch the replay of The Earth Keepers Podcast Season 2 Kickoff Party on YouTube Live.
Here's what I share in this episode:
Why we need to reframe our thinking around weeds and invasive plants
How reading the book 'The War on Invasive Species' changed my thinking
What caused me to be disillusioned by the agriculture program at a land grant based college in the 1990's
When and why the idea of invasive plants was created
How the U.S. government introduced many of today's invasive plants
About the funding of government and non-profit weed organizations by the major pesticide companies
How many plants and fungi labeled as toxic today had a long history of use by herbalists and healers
That you won't get sick or die from simply touching a mushroom
The different ways dandelions improve soil quality share nutrients with other plants
Why you might want to energetically work with dandelion
How to pick a plant ally to begin working with
Different ways to get to know a new plant ally
Getting to know the plants our ancient ancestors worked with
Keeping a journal of your experiences to create your own materia medica
Why getting to know the plants in your community may make you want to advocate for them
An idea suggested in the book Nature's Best Hope by Douglas W. Tallamy to practice native plant and ecosystem conservation in your own backyard
Why it's important to create biological corridors in our urban and suburban communities
How my own yard started to come back into balance when I quit mowing it
Links & Resources
Learn more and join the Earth Tenders Academy
Listen to all of the episodes from this season
Beyond the War on Invasive Species
The Ecology of Invasions by Animals and Plants
Witches and Pagans, Women in European Folk Religion, 700-1100
Nature's Best Hope, A New Approach to Conservation That Starts in Your Yard
Join the FREE Following Hawks Earth Keepers Community on Facebook