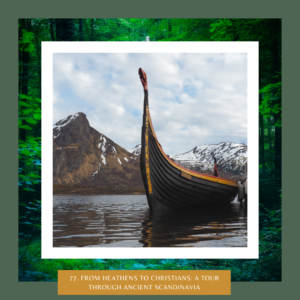 Season 3 of The Earth Keepers Podcast continues as we take a journey through ancient Scandinavia to discover how religious ideas changed through the centuries.
In this season, I'm taking us on a journey to explore what happens when an entire society of people lose their connection to the only land they've ever known.
And I'll be exploring this question by following just one branch of my family tree back through the Mormon Pioneer days in Utah and Idaho and then back to my ancestors who left Sweden for America.
In this episode, we discuss the landscape and initial settlements in ancient Scandinavia, the Swedish peasant and bondsman, how Christianity came to the area, Viking religion, and the Norse Volur.
If you've done any genealogy research into your own family origins, want to know more about how organized religion influenced your ancestor's beliefs, are curious about how plant medicine and shamanic ritual was integrated into early religion, and want some ideas about how you can reconnect with the land in a place and time your ancestors wouldn't recognize, you're going to love this season of The Earth Keepers podcast.
Subscribe: Apple Podcasts | Pandora | Spotify | Amazon Music | Google Podcasts | Android Devices | Stitcher | RSS | Audible
Here's what I share in this episode:
When people initially moved into Scandinavia and how they lived
How Swedish peasant society began
The layout of the original Swedish homesteads
What happened in Swedish villages
Who the bondsmen were and what their lives were like
Religious beliefs about the afterlife in ancient Scandinavia
What happened to early Christian missionaries in Scandinavia
How the Christian church converted a fifth of the population of Sweden at one time
The shift from bondsman to farm labor on the farms
How the Swedish peasant society became the fearsome Vikings
What the women of ancient Scandinavia were doing while the men were out to sea
The importance of the Norse goddess Jord
Who the Norse Volur were and their importance to the communities they served
What happened in a seidr ceremony
Links & Resources
A History of the Swedish People, Volume 1 
Witches and Pagans:Women in European Folk Religion, 700-1100
Hidden Plant Practices of Ancient Witches & Pagans with Max Dashu
Learn more and join the Earth Tenders Academy
Listen to all episodes from this season
Join the FREE Following Hawks Earth Keepers Community on Facebook