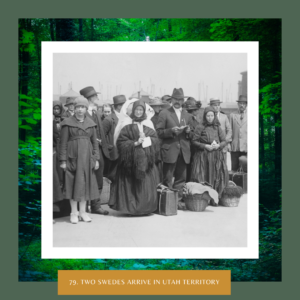 Season 3 of The Earth Keepers Podcast continues as we find two Swedes arriving in Utah Territory in the late 1800's.
In this season, I'm taking us on a journey to explore what happens when an entire society of people lose their connection to the only land they've ever known.
And I'll be exploring this question by following just one branch of my family tree back through the Mormon Pioneer days in Utah and Idaho and then back to my ancestors who left Sweden for America.
In this episode, we talk about Brigham Young's efforts to clear Utah Territory of the indigenous tribes who'd called the land home for thousands of years, and how he used genocide, tithes from church members, and the labor of indentured servants and slaves to build his empire.
I share what it was probably like for Nils and Maria, my ancestors who immigrated from Sweden, to make the long journey and assimilate into the homogenous Mormon culture in Utah and I wonder about what traditions from the old world crossed the Atlantic with them.
The episode features a reading of the Tomten poem by Kevin Sorbo from the HydroMaker YouTube channel.
If you've done any genealogy research into your own family origins, want to know more about how organized religion influenced your ancestor's beliefs, are curious about how plant medicine and shamanic ritual was integrated into early religion, and want some ideas about how you can reconnect with the land in a place and time your ancestors wouldn't recognize, you're going to love this season of The Earth Keepers podcast.
Subscribe: Apple Podcasts | Pandora | Spotify | Amazon Music | Google Podcasts | Android Devices | Stitcher | RSS | Audible
Here's what I share in this episode:
Other locations Brigham Young considered for his City of Zion
What Mormon doctrine says about Native American people
The great lengths the church went to in order to clear Utah Territory of the indigenous tribes
What Salt Lake City was like when my ancestors arrived
How the LDS church has become the richest church in the world
Why it's important for members to pay their tithes to the church
The reason most Mormon immigrants arrived in Utah with nothing other than their clothes
How difficult it was for the immigrants to pay back their loans they'd received to travel to Utah
The myth that the people arriving to Utah Territory were already farmers
Similarities between Mormon towns and old Scandinavian villages
How to know if a town in Utah was built by Mormons
The importance of working communally to the Mormon immigrants
Whether or not my ancestors benefitted from leaving Sweden for Utah Territory
Some of the foods or traditions Nils and Maria may have kept alive after arriving in Utah
The legend of the Tomten and Jultomten in Sweden
A special reading of the Tomten poem
Links & Resources:
Brigham Young's Extermination of Utah Indians YouTube video
Video is based on the book, The Whites Want Everything, Indian-Mormon Relations 1847-1877
Plain But Wholesome, Foodways of the Mormon Pioneers by Brock Cheney
Mormon Country by Wallace Stegner
Kevin Sorbo Reads Tomten on the HydroMaker YouTube channel
Learn more and join the Earth Tenders Academy
Listen to all episodes from this season
Join the FREE Following Hawks Earth Keepers Community on Facebook