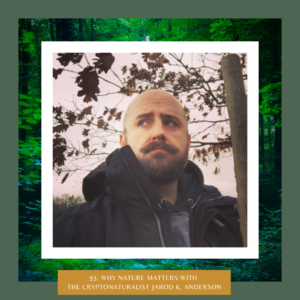 In Season Four of The Earth Keepers Podcast, I'm welcoming a series of thought-provoking guests like Jarod K. Anderson, who shares a constant stream of odd, poetic, and often philosophical observations about life, science, and the natural world on his podcast, The Cryptonaturalist.
If you follow The Cryptonaturalist on Instagram but haven't stumbled across Jarod's weird and wonderful podcast by the same name, you're missing out.
What you'll find when you tune in is in the tradition of classic nature documentaries, but profoundly weirder.
The show has been called "Night Vale meets A Prairie Home Companion" and "David Attenborough meets The X Files." The podcast loves cryptids, but focuses solely on creatures you've never heard of before.
Do they exist? 
Well, I guess you could say they live in Jarod's mind.
And if they live there, who's to say that they aren't actually hidden away in some deep, dark forest somewhere? 
Either way, The Cryptonaturalist podcast is a portal to another place and time where everything is animate and the human is the tiny but curious participant in the whimsical natural world, just as it should be. 
Please enjoy my conversation with Jarod K. Anderson.
Subscribe: Apple Podcasts | Pandora | Spotify | Amazon Music | Google Podcasts | Android Devices | Stitcher | RSS | Audible
Here's what you'll hear in this episode:
The idea behind leaning into fictional nature.
Sustainability and the evolution of human behavior.
Biodiversity and climate, telling stories vs telling facts.
How storytellers can lead us to a better understanding of nature.
How do we get people back in their element?
How to press lightly against the bigger.
The importance of reconnecting with nature.
Links & Resources
Listen to all episodes in Season 4
The Cryptonaturalist Instagram
Join the Earth Tenders Academy
Join the Earth Keepers Community on Facebook