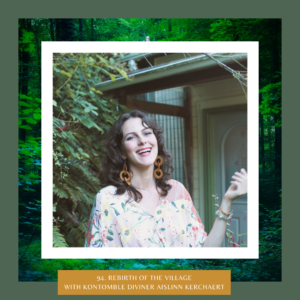 In Season Four of The Earth Keepers Podcast, I'm welcoming a series of thought-provoking guests like Initiated Kontomble Voice Diviner Aislinn Kerchaert. 
The Kontomble are known as the little people from the Dagara Tribe in Burkina Faso.
Their medicine and ways were brought to the West by Elder Malidoma Somé over the past thirty years. The Little People are known by many names across many cultures and are recognized as leprechauns, fairies, gnomes, and more- their medicine and its message is universal in nature.
Kontomble are the original stewards of the earth, and bringers of culture to humanity. 
They have always been a part of this world, and now, more than ever- they are wanting to reconnect with humanity to guide us through the transformational times we are in.
Please enjoy my conversation with Aislinn Kerchaert who brings through a channeled message at the end of the episode for all of us from the Kontomble.
Subscribe: Apple Podcasts | Pandora | Spotify | Amazon Music | Google Podcasts | Android Devices | Stitcher | RSS | Audible
Here's what you'll hear in this episode:
Reframing the vision of the future.
Reawakening the heart of the child.
Each one of you is born from a star.
Ancestral allies of the new earth.
How we become equipped to man the ship.
Little people in the bigfoot world.
Different types of talismanic tools and regalia.
Links & Resources
Listen to all episodes in Season 4
Join the Earth Tenders Academy
Join the Earth Keepers Community on Facebook