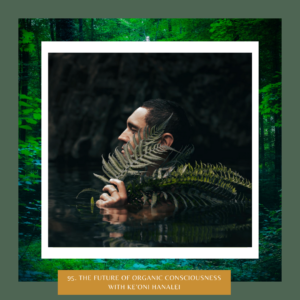 In Season Four of The Earth Keepers Podcast, I'm welcoming a series of thought-provoking guests like Pohala Fern Medicine founder Ke'oni Hanalei.
If you follow Ke'oni on Instagram, you have likely encountered his near daily Ferncasts where he shares the teachings and medicine of the hawaiian ferns, intertwined with the indigenous knowledge of the Hawaiian islands.
His clear transmissions and joyful nature are always a pleasure in my feed, inviting us all to deeply participate in the creation of our lives and our co-creation with this planet.
Ke'oni offers the medicine of the ferns through the medicinal oils he creates through careful harvest, distillation, extraction and ceremony.
And let me tell you, his offerings are potent and powerful. 
We recorded this conversation back in mid-July, prior to the devastating wildfires on Maui, where Ke'oni lives.
He has since been a vocal and active participant in calling for the repair and restoration of Moku'ula – the original seat of energetic power in Lahaina on Maui. 
This location is an incredibly important axis mundi, or energetic distributor, in the earth's grids and the inner-earth waters, and the energy was disrupted through the colonization of the islands.
There's a link in the show notes below if you'd like to learn more about Project Moku'ula and participate in this project – I have already encoded and sent an andara crystal from my land to Maui and you can do the same.
Please enjoy my conversation with the Fern Man, Ke'oni Hanalei.
Subscribe: Apple Podcasts | Pandora | Spotify | Amazon Music | Google Podcasts | Android Devices | Stitcher | RSS | Audible
Here's what you'll hear in this episode:
Ke'oni's ancestral connection with fern medicine
The evolution of ferns as a species and how they are assisting humanity
Why this ancient indigenous knowledge is now being shared publicly
The current culture of control and how it shapes our experiences
The importance of non-attachment in the earth's evolution
What needs to happen in order for the earth to exalt as a sacred being
What is data collapse and how it impacts our free will
Ke'oni's perspective on artificial intelligence and where humanity is headed
The difference between an organic, inorganic and hybrid human
The importance of consent in this coming age
Links & Resources
Listen to all episodes in Season 4
Join the Earth Tenders Academy
Join the Earth Keepers Community on Facebook