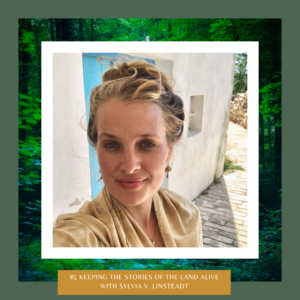 In Season Four of The Earth Keepers Podcast, I'm welcoming a series of thought-provoking guests to the show to discuss where exactly humanity is headed and how we can collectively create the future we'd like to see.
In this episode, I'm chatting with author, scholar of ancient history, and wildlife tracker Sylvia Linsteadt.
Sylvia's work—both fiction and non-fiction—is rooted in myth, ecology, feminism & bioregionalism, and is devoted to broadening our human stories to include the voices of the living land.
I worked with Sylvia a bit last summer as I was pulling all of the threads of Season 3 into a cohesive story and have also participated in some of her writing workshops, which I can highly recommend if you'd like to find a way to weave your shamanic journeys into the written word.
I just love the way she brings the ancient stories to life in our present lives.
If you prefer to watch this episode, you can find it on my YouTube channel.
Subscribe: Apple Podcasts | Pandora | Spotify | Amazon Music | Google Podcasts | Android Devices | Stitcher | RSS | Audible
Here's what you'll hear in this episode:
Sylvia's short story The Garden
The importance of putting action behind a vision
Why Sylvia uses ancient stories and myths in her own writing and storytelling
The role of the land in telling stories and orienting us to a particular location
How shrines that have been tended feel compared to those that haven't
How fairy tales have been protected in our culture
The Arthurian story of Percival and the Grail Castle as it relates to Sylvia's story The Garden
The power of telling stories
Grief as a doorway to another world
The importance of storytelling to envision a new world
How to step out of the digital world to realign with the natural world
How Sylvia came to write The Venus Year
The connection between the sun and the moon and Venus
Writing and storytelling as a shamanic journey
The importance of returning to this world after visiting a liminal space
Links & Resources
Listen to all episodes in Season 4
The Pollen Basket, Sylvia's Substack
The Garden on Sylvia's Kalliope's Sanctum Podcast
Sun, Moon & Venus vs. Father, Son & Holy Ghost on The Earth Keepers Podcast
Join the Earth Tenders Academy
Join the Earth Keepers Community on Facebook