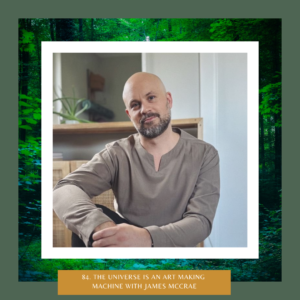 We're kicking off Season 4 of The Earth Keepers podcast with an interview with author, poet, creative strategist and meme artist, James McCrae.
James is the author of two books – Shit Your Ego Says and How to Laugh in Ironic Amusement During Your Existential Crisis. You may already be following his Instagram account @wordsarevibrations where he shares his brilliant poems and illustrations, and memes.
Yes, memes.
James makes a compelling argument for why memes are the perfect form of art to disrupt this pervasive sameness and sidestep the algorithm overlords to inject new ideas into the collective consciousness.
And how we can use the technology of OUR time to bring new ideas to the world.
I think you're really going to love what he has to say about this.
This season will be unlike any of the previous three as I welcome a series of guests to join me in some thought-provoking discussions about where exactly humanity is headed and how we can collectively create the future we'd like to see.
There's a lot of talk out there about how we're going to get to that future. To what some might call The New Earth.
Will it be love or will it be war? What will it take for humanity to finally release that which is no longer serving us to begin imagining something different?
So in Season Four of The Earth Keepers podcast, I'll be speaking with artists and storytellers, researchers and mythmakers about what they're envisioning as a potential future for humanity and the earth.
If you prefer to watch this episode, you can find it on my YouTube channel.
Subscribe: Apple Podcasts | Pandora | Spotify | Amazon Music | Google Podcasts | Android Devices | Stitcher | RSS | Audible
Here's what you'll hear in this episode:
14 signs a society is missing a subculture
Whether our culture is stuck in a loop
Terence McKenna's notion of creativity and its connection to nature
How the universe is an art making machine
What is lost with the absence of shamans in our culture
The creative path as a spiritual path
On intuition as a portal to higher intelligence
How memes can shift collective culture
Memes as a trojan horse for ideas
The role of myths in our culture
Why we need a new vision for the future
Following the middle way to what's next for our culture
James McCrea's inspiration for "The New Renaissance"
Why we need both nature and technology for the next age
Inspiration for bringing your own creative ideas into the world
James' offering "The Sunflower Club" and how you can get involved
A poem from James called "The New Earth"
Links & Resources
Listen to all episodes in Season 4
14 Warning Signs That You Are Living in a Society Without a Counterculture by Ted Gioia
Opening the Doors of Creativity by Terence McKenna
Join the Earth Tenders Academy
Join the Earth Keepers Community on Facebook