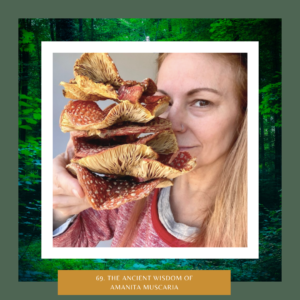 In this episode I interview Amanita Dreamer to talk all about the magical Amanita Muscaria mushroom, how she started working with it, and why it wants us to be in ceremony with it.
Folklore and fairy tales are filled with imagery of this colorful mushroom, but many of the ancestral traditions associated with this magical mycelial being have been lost to us in our modern world.
Amanita Dreamer suffered from severe anxiety, panic attacks, and was on benzodiazepines for 10 years until she found the Amanita Muscaria mushroom and it saved her life.
She has since developed a thorough and robust knowledge base for their safe use in the healing of trauma, anxiety, and panic attacks and is an advocate for working with this mushroom to connect with the wisdom of the earth and our ancestors shared via her many vlogs on amanitadreamer.net.
She will be facilitating a ceremony on Amy's land in Kalispell, Montana on July 8th, 2022. Get tickets here.
If you're a shamanic practitioner, psychonaut, permaculture designer, witch, druid, herbalist, gardener, energy healer, or lightworker, you're going to love this season of The Earth Keepers Podcast.
Watch the replay of The Earth Keepers Podcast Season 2 Kickoff Party on YouTube Live.
Here's what you'll find in this episode:
The messages Amanita Dreamer received as a child around plants in the wild being dangerous to touch
How undiagnosed neurodivergence and autism led to Dreamer's lifelong anxiety and depression
The turning point in her life that happened after losing everything in Hurricane Katrina
Why she was prescribed benzodiazapenes and the physical and emotional pain she endured for five years
How she planned to end her life and how the Amanita Muscaria called to her in that moment
What Amanita Dreamer found online when she looked up this mushroom
How she listened to the voice of the mushroom to brew the tea the first time
What it felt like to journey with Amanita Muscaria
How this mushroom is different from other entheogens including psilocybin mushrooms
The similarities between amanita and cannabis
Some of the reasons that we have been told this mushroom is dangerous or unsafe to work with
Why Amanita Muscaria might be a good entheogen to start with if you don't have any other experiences with plant medicine
 How the mushroom elders came to Amanita Dreamer to teach her about holding ceremony with this mushroom
How smoking Amanita Muscaria opens a door to other worlds that other methods do not
The magic formula that comes together in ceremony to help create new realities
Time traveling with Amanita Muscaria
What an ancient Amanita Muscaria ceremony would have been like
The power of experiencing ceremony as a group
How our culture has created the belief that you have to see something or measure it scientifically for it to be true
 What drives Amanita Dreamer to keep sharing about this mushroom with all of the censorship and gatekeeping around plant medicines
What to expect during an Amanita Muscaria ceremony
What happens when you use Amanita Muscaria and cannabis together
People who should not use Amanita Muscaria
How to prepare for a ceremony with this mushroom
That there are specific constituents in Amanita Muscaria that affect and open the heart
What to do if you're feeling nervous or fearful about working with this mushroom
The challenge Amanita Dreamer has for those who attend a ceremony with her
What we get back as humans when we come back into alignment with our birthright living on the Earth
The power and drive this mushroom gives us to change the world
Why working with Amanita Muscaria is so important when there are so many people on the planet at this moment in time
Links & Resources
Listen to all episodes from this season
Join the Amanita Muscaria ceremony on July 8th, 2022 in Kalispell, Montana
Amanita Dreamer's website and videos
Learn more and join the Earth Tenders Academy
Join the FREE Following Hawks Earth Keepers Community on Facebook