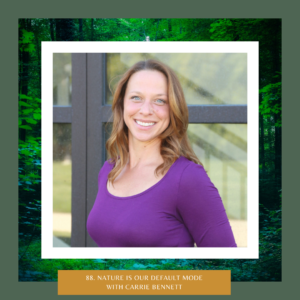 In Season Four of The Earth Keepers Podcast, I'm welcoming a series of thought-provoking guests like Carrie Bennett to the show to discuss where exactly humanity is headed and how we can collectively create the future we'd like to see.
As we consider what the ancient future technology should be for optimizing our human-ness, I think we have to start at the beginning and consider the technology we're already surrounded by.
The technology our human bodies evolved with.
The earth. The sun. Water. Plants and trees.
Modern science might finally be able to explain it all to us. But we don't need to understand quantum physics to know that it feels good to go outside.
And one person who I think stands right at that intersection of these disciplines – quantum biology, nature, and healing – is my guest today, Carrie Bennett.
With multiple degrees in biology, nutrition, and bodywork, Carrie's relentless enthusiasm to learn has made her one of the leading educators in the emerging field of quantum biology. She combines deep research and clear explanations of the complex quantum mechanisms at play in the human body to teach people how to use light, water, and nature to thrive.
And wait until you hear how she confirms another download I had a few years back that I'd never fully understood.
I think it will blow your mind – just like it did mine.
Subscribe: Apple Podcasts | Pandora | Spotify | Amazon Music | Google Podcasts | Android Devices | Stitcher | RSS | Audible
Here's what you'll hear in this episode:
What is the quantum field and what does it mean?
The akashic field and its importance.
What I love about quantum biology.
How to connect with nature.
The importance of sunlight as a nutrient.
Liquid crystalline water in the body.
We are all connected to nature.
Scalar waves and how they impact the heart.
The power of confirmation and confirmation.
Links & Resources
Listen to all episodes in Season 4
Carrie B Wellness on Instagram
How Your Connection to the Sun is Being Blocked podcast episode
Vortexes, Earth Energies & Healing with the Elementals podcast episode with Peter Champoux
Dr. Francisco Torrent-Guasp's research on the structure and function of the helical heart.
Join the Earth Tenders Academy
Join the Earth Keepers Community on Facebook