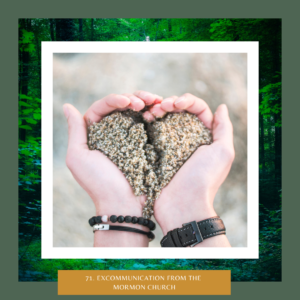 We kickoff Season 3 of The Earth Keepers podcast with an excommunication from the mormon church.
In this season, I'll be taking us on a journey to explore what happens when an entire society of people lose their connection to the only land they've ever known.
And I'll be exploring this question by following just one branch of my family tree back through the Mormon Pioneer days in Utah and Idaho and then back to my ancestors who left Sweden for America.
In this first episode, I set the stage for our journey and share my family's more recent personal connection to the Mormon church, which includes an excommunication.
We talk about how my Mormon ancestors came to me in a shamanic journey to ask for help, what happens in the Mormon temple during the endowment ceremony, and why the Mormons baptize their dead relatives.
You'll also hear from my friend, shamanic healer and ex-Mormon Katrina Whitney about her experiences growing up in the church and how she ended up on her current spiritual journey where she now helps empower others to become their own healers.
If you've done any genealogy research into your own family origins, want to know more about how organized religion influenced your ancestor's beliefs, are curious about how plant medicine and shamanic ritual was integrated into early religion, and want some ideas about how you can reconnect with the land in a place and time your ancestors wouldn't recognize, you're going to love this season of The Earth Keepers podcast.
If you want to watch my entire conversation with Katrina, you can find it on my YouTube channel.

Subscribe: Apple Podcasts | Pandora | Spotify | Amazon Music | Google Podcasts | Android Devices | Stitcher | RSS | Audible
Here's what I share in this episode:
The synchronicity that brought Katrina and I together to work with the land in Ogden, Utah
How my Mormon ancestors came to me in a shamanic journey to ask for help to remove their vows to the church
Why my grandmother was excommunicated from the Mormon church
How you remain a member of the church even if you don't attend
How Mormon temples are different from churches
Why the ceremonies in Mormon temples are kept secret
What made the church remove the blood oath from temple ceremonies in 1990
How Katrina figured out that she needed to formally remove the oaths taken in the Mormon church
What promises members make to the church that continue with them for the rest of their lives and into the afterlife
The difference between making a vow with a church vs. making a vow with God
Why the Mormon church owns the largest genealogical library in the world
How the Mormon church baptizes dead people without their consent
What Katrina and I found when we visited the Mormon cemetery where some of my ancestors are buried
Why it is so difficult to leave the Mormon church
What has happened to many of the Mormon souls after they passed away
How free will works in the afterlife
Links & Resources:
Connect with Shamanic Healer Katrina Whitney
Watch my entire conversation with Katrina on my YouTube channel
Watch the Hulu series 'Under the Banner of Heaven'
Under the Banner of Heaven temple ceremony clip
Join the Earth Tenders Academy
Join the Earth Keepers Community on Facebook