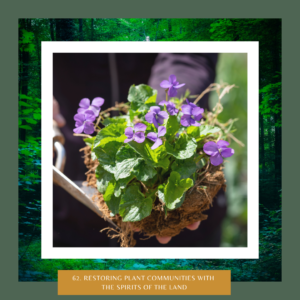 In this episode, we talk about working with plants in their natural environment and restoring plant communities with the spirits of the land.
News headlines are full of fear based messaging about climate change and weather extremes, but what are we, as individuals, supposed to do about it? What about all of the large scale ecosystem destruction? How can we have an impact?
The reality is that the climate has been shifting and changing since the beginning of time and plants, animals and humans have always been forced to adapt. However, many parts of our balanced ecosystem have been damaged or destroyed in the last 200 years in the name of progress.
We're talking about how to work with the Spirits of the Land to restore some of that damage and what kind of impact we can have in our own backyards, how to find intact ecosystems in your community, how to find out what's missing from your current landscape, and how to work with the wisdom of extinct plants or trees.
If you're a shamanic practitioner, herbalist, gardener, energy healer, lightworker, psychonaut, or houseplant enthusiast, you're going to love this season of The Earth Keepers Podcast.
Watch the replay of The Earth Keepers Podcast Season 2 Kickoff Party on YouTube Live.
Here's what I share in this episode:
How a warming climate changed the European landscape 8,200 years ago
What our ancient European ancestors lost when the sea level rose by two feet
How the trend of people living nomadically today may be a DNA activation
The number of new plant species discovered on Earth every year
Why it's important to help rebuild damaged ecosystems
Asking the land what it needs to be restored
The importance of plants and water in an urban or suburban environment
That sometimes smaller is better when we're restoring plant communities
How to find native ecosystems in your community
What to look for when visiting a native plant ecosystem
The types of books that are good resources for habitat repair and protection
How to work with extinct plants
A story about how a noxious weed is helping restore an area that was logged
Links & Resources
Learn more and join the Earth Tenders Academy
Listen to all of the episodes from this season
The Norse Shaman: Ancient Spiritual Practices of the Northern Tradition book
New Plant Species Discovered in 2021
The Eco-Herbalist's Fieldbook: Wildcrafting in the Mountain West
Join the FREE Following Hawks Earth Keepers Community on Facebook