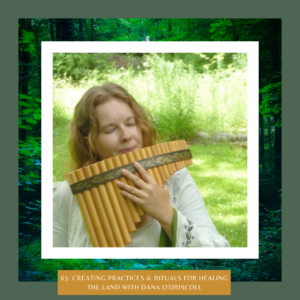 In this episode, I'm sharing an interview with druid and blogger Dana O'Driscoll who shares all about how she has created practices and rituals for land healing.
Dana writes weekly posts on her blog, The Druid's Garden.
I have loved watching her work on and share projects from her original homestead in Michigan before she felt called back to the land where she grew up in western Pennsylvania where she now tends five acres practicing permaculture, wildcrafting, and creating natural arts.
She says that she's often covered with paint, dirt, or both. Dana is a certified permaculture designer and permaculture teacher. But she's also a modern-day druid.
In our discussion, we talk about what it means to be a druid today, how you can have a significant impact on the ecosystem where you live, ceremonies, offerings and rituals for healing the land, and all about refugia gardens.
If you're a shamanic practitioner, witch, druid, herbalist, gardener, energy healer, or lightworker, you're going to love this season of The Earth Keepers Podcast.
Watch the replay of The Earth Keepers Podcast Season 2 Kickoff Party on YouTube Live.
Here's what you'll find in this episode:
Dana's earliest memories with plants

The unique ecosystem where she lives in western Pennsylvania 

What does it mean to be a druid today

How wildcraft druidry helps us to connect with land where we live, especially if we are not indigenous to this land

Being inspired by ancient druidry while adapting it to modern land tending

Ancient druid plant rituals and ceremonies

How spending time with plants today can give us insight into ancient uses and beliefs 

Why looking up the qualities of a plant or tree to know what its healing abilities are isn't the best idea

How to work with the Wheel of the Year in our own ecosystem to understand the wisdom offered to us from different plants

Moving from a head centered to heart centered place to better communicate with nature

How nature won't speak over us to get our attention

What is a refugia garden?

How important it is to influence the ecosystem we have access to

Rare woodland native species like ramps and American Ginseng

How you can be the difference in your community of a species going extinct or not

What it means to not own the mineral rights to your land

Having an impact on your ecosystem even with large scale destruction like clear cut logging or fracking in your area

The importance of bringing a hopeful attitude to working with the Spirits of the Land

How the pandemic brought awareness to many people to reconnect with nature

The idea of re enchanting ourselves to come back into connection with nature

Letting nature have agency and participate in the planning and planting process

Offerings and ceremonies for doing land healings

Crafting seed balls and infusing them with blessings

How to do sacred land healing work in public places

The importance of being committed to a place over a long period of time

Ceremonies and energy work to contribute to the health of the land

Sharing our practices and knowledge with our communities
Links & Resources
Show Transcript
Listen to all of the other episodes in this season
Learn more and join the Earth Tenders Academy
Dana's blog, The Druid's Garden
Druid's Garden Art on Instagram
Purchase Sacred Actions in the US
Purchase Sacred Actions in the UK
Making Seed Balls and Scattering Seeds for Wildtending