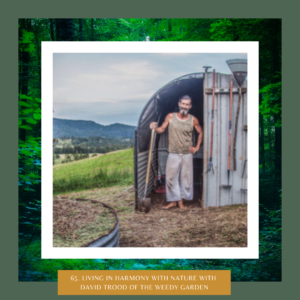 In this episode I interview David Trood from The Weedy Garden all about his experience starting a garden from scratch and living in harmony with nature.
As the pandemic began in March of 2020, David's 30-year photography career came to a very abrupt stop. He had spent his life traveling and photographing the world in an effort to connect people with the magic and beauty of nature and now he had no work or travel on his schedule for the foreseeable future.
Then, he remembered a vision he'd had since he was a child of being strong and fit and living off the land when he was 100 years old and he decided to act on that vision and start a garden.
What began as a few raised beds on a hill beside the house he rents has since turned into an oasis where David and his wife are truly living in harmony with nature.
And he documents it all on his popular YouTube channel, The Weedy Garden.
If you're a shamanic practitioner, permaculture designer, witch, druid, herbalist, gardener, energy healer, or lightworker, you're going to love this season of The Earth Keepers Podcast.
Watch the replay of The Earth Keepers Podcast Season 2 Kickoff Party on YouTube Live.
Here's what you'll find in this episode:
David's earliest memories of plants
How his photography career inspired him to connect people with nature
What his gardening experience was like prior to 2020
The moment David decided he wanted to grow his own food during the pandemic
What happened when he ordered seeds from China
The vision he's had since he was a child of what he looks like at 100 years old
The importance of lactobacillus bacteria in his garden and how he learned about it
How the soil acts as a kind of stomach for plants
Feeding your plants a five-star meal with quality compost
How the forest naturally builds beautiful soil
What biochar is and how it supports soil and plant health
What happened when David brought his microscope to the garden and started filming what he saw
The importance of understanding soil and light when growing plants
Experiencing the sentience of plants after living full time in the garden for a few months
How David handled the cabbage moths devouring his cabbage and cauliflower plants
David's experiences when he opened to receiving messages from nature
How plants and animals share communication to keep the ecosystem in balance
Why you don't want to plant your garden in rows
The importance of observing your surroundings to receive nature communication
The inspiration of the documentary The Biggest Little Farm for people who want to move from the city to the country to farm
That you don't need to own land to start gardening
Ideas on how to find some land in your community to start a garden
How to move from having a dream to taking action when you want to grow your own food
The number of people and equipment involved in getting most food from the seed to your table
How much time it takes to care for a garden once it's setup
The importance of fungi for trees and bacteria for plants
Finding the plant experts in your own ecosystem to learn about growing in your particular climate
Links & Resources
The Earth Keepers Podcast | Season Two Episodes
Lismore Flood 2022 – Please Help My Community Video
Permaculture Pioneer Geoff Lawton
The Biggest Little Farm Documentary
Join the Earth Tenders Academy
Join the Earth Keepers Community on Facebook