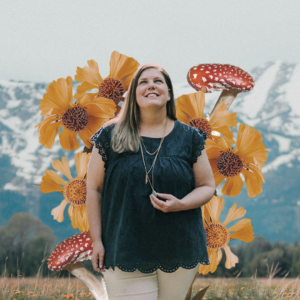 In this episode, I share an in-depth discussion about what the Earth Tenders Academy is and what you'll find inside. There's also a special invitation to a FREE live event on May 18, 2022 called Earth Tending: Healing with the Spirits of the Land.
This special event is part workshop and part practice session.
First, I'll share more about who the Spirits of the Land actually are, why they want to work with us and what happens when we team up for healing!
Then we'll talk about why the land needs healing at all.
If the spirits know what needs to be done, what do they need us for anyway??
Sometimes it's easy to think that we can't possibly be that useful or that we don't know what we're doing but I promise – we humans are integral to the healing process!
And finally, I'll share some SPECIFIC methods for doing earth tending work with the land.
After that, I'll take you on a guided journey to connect with the Spirits of the Land and experience what it's like to do healing work with them!
I'm really excited to share this experience with you, so I hope you can join me.
Learn more and sign up for this free event here.
Here's what I share in this episode:
Why the Earth Tenders Academy is so much more than just an online course
Why the course is more of a "choose your own adventure" experience
An Earth Tenders Academy student's experience with the ancient ancestor meditation in the course
How the course is delivered via private podcast and how you can listen to it
Everything that's included when you join the Earth Tenders Academy
An overview of what topics are covered in Level 1 and Level 2 of the course
What happens in our monthly live calls and why they might be the most important part of the experience
A funny experience at our Earth Tenders retreat in New Mexico when we did a group property reading
Why we don't trust our intuitive knowing or think we must be making it all up
How everyone can work with the Spirits of the Land
Feedback from students who've taken the Earth Tenders Academy
A story about one of our live calls last year when we worked with Fairy Creek, B.C. and the messages the ancient trees there shared with us
Links & Resources
Watch the replay of our reading with Fairy Creek, B.C.
Signup for the FREE live event Earth Tending: Healing with the Spirits of the Land
Get $111 off the regular price of the Earth Tenders Academy through May 25, 2022 when you signup for the free event!
Listen to all episodes from this season
Join the FREE Following Hawks Earth Keepers Community on Facebook